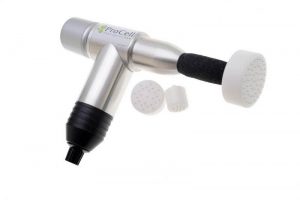 We are pleased to now offer MicroNeedling with Growth Factor Serums!
MicroNeedling has quickly become one of the most sought after procedures in the country in the last few years, and the Livra Pro is a revolutionary serum delivery system that helps to rejuvenate skin, erase wrinkles and diminish scars.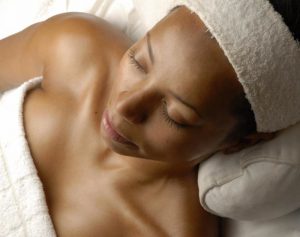 How does MicroNeedling work?
The proprietary Livra MicroChannel stamper creates tiny channels in the outer layers of your skin which initiate a natural healing response. These channels have been clinically shown to increase serum absorption by 300%! Then, our unique stem- cell based serums go to work to feed your skin with powerful growth factors that encourage your skin cells to revitalize themselves. The results are unlike anything you've seen before: Livra delivers.
In the last few years, microneedling has made a huge splash because of how effective it is and how quickly it works.  With as few as two treatments, microneedling has been shown to improve the appearance of wrinkles and fine lines, acne scars, age-spots/sunspots, and stretch marks.  It can also help increase the effectiveness of topical hair growth serums. The latest in skin therapy systems, this service is a revolutionary breakthrough for beautiful skin!
Livra ProCell Products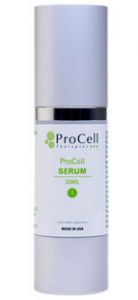 #2 Cellular Renewal Serum supports cellular renewal and has potent regenerating properties which may improve skin firmness, elasticity and tone. Fine lines and wrinkles may diminish over time, and skin may look and feel brighter, more luminous and healthy. #2 Cellular Renewal Serum contains cytokines and growth factors derived from bone marrow mesenchymal stem cell culture, plus supplemental TGF beta-3 and IGF-1 from recombinant technology. Nanotechnology delivery enhances penetration of these potent, pro-healing and anti-inflammatory biosignals. Numerous complementary actives make this the most advances anti-aging serum available anywhere!
---

#3 Healing Accelerator Serum contains powerful  moisturizers, revitalizing actives and stem cytokines. It also provides a lipophilic barrier to seal in hydrophilic serum ingredients, further enhancing their pro-healing, anti-inflammatory effect. Key ingredients include Stem Cytokines, Retinol (Vitamin A), Vitamin E Acetate, Vitamin C, Vitamin B5, Organic Black Tea and Shea Butter.
---
Livra ProCell Before & After Gallery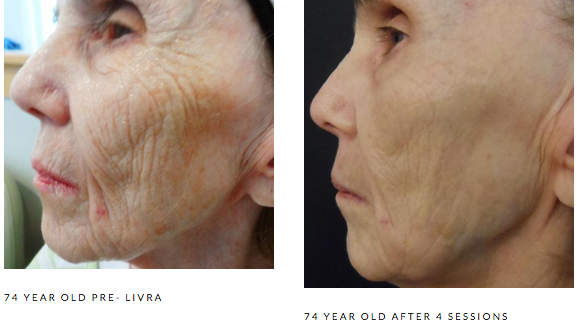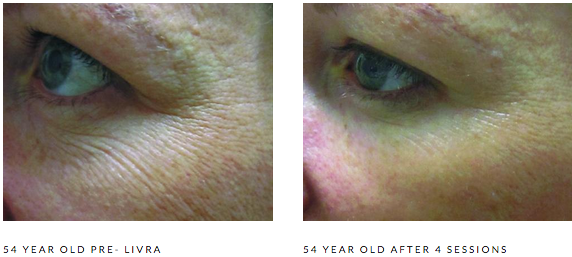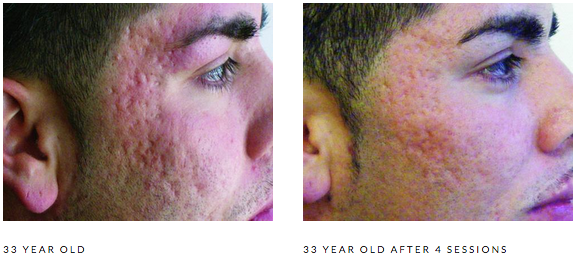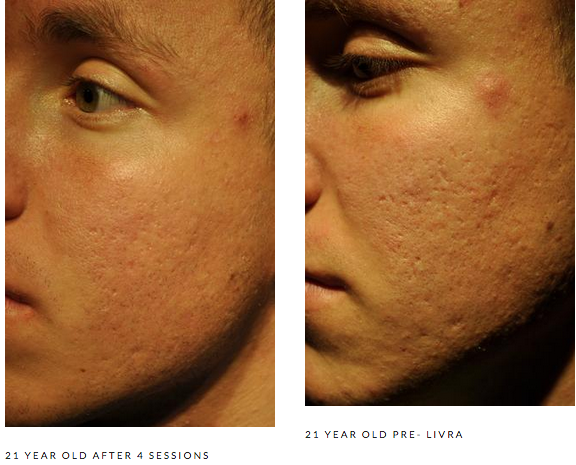 What You Need To Know (FAQs):
Q: How many treatment should I do?
A: The number of treatments necessary will range greatly depending on what we are treating. On average, for light anti-aging treatments, 1-2 treatments may be sufficient. For deeper wrinkles and acne scarring, 4-5 treatments may be required to achieve desired results. There is no limit to the number of treatments that one can receive as long as adequate time passes in-between each treatment. And as always, maintaining your investment with maintenance sessions is highly recommended. Your aesthetician will guide you on a treatment plan for your specific needs.
Q: How long should I wait in between treatments?
A: Depending on the depth of the needle length used in your specific treatment, you may need anywhere from 1-4 weeks in-between sessions.
Q: What will this improve the appearance of?
A: Fine lines and wrinkles, hyperpigmentation, acne scarring, [non-raised] keloid scarring, stretch marks, hair loss, and rosacea are all conditions that microneedling can improve.
Q: How long is the down time?
A: Wait a minimum of 90 minutes before applying anything else to this skin apart from what your esthetician applies. This includes sunscreen, makeup, moisturizer, etc. It typically takes 24-72 hours for all redness and pinprick scabbing to disappear.
Q: How will my face look immediately following a treatment?
A: There is a very wide range of normal reactions. Anything from little to no reaction, to a deep red flush, to pinpoint bleeding is normal. You may experience discomfort at the treatment site with transient redness and swelling which may last up to two hours or longer. The redness may last up to 2-3 days. The treated area may feel like a sunburn for a few hours after treatment. As this is a non-ablative procedure, more extreme reactions do not necessarily correspond to more extreme results. Infection is possible if proper aftercare guidelines are not followed.
Q: How long before I can expect to see results?
A: As soon as 1-2 weeks in some cases. 2-3 treatments for more extreme results. For hair regrowth it can take up to a month.
Q: Are there any contraindications?
A: Anyone with a condition that seriously impairs their immune system (such as cancer patients that are undergoing chemotherapy)
-Pregnancy
-Diabetes (due to problems with healing)
-Patients on Accutane (or any related acne medication should be discontinued for a minimum of 6 months prior to undergoing MicroNeedling.)
-Active Herpes Simplex in the treatment area (treatment is possible once the outbreak has healed, however it may be advisable to take prescription strength antiviral medication to keep this condition in remission during treatment series.)
-Dry skin (if your skin is overly dry, you will need to start a moisturizing regimen and ensure the condition is under control prior to undergoing MicroNeedling treatment.)
-Any active inflammatory skin condition (such as eczema, psoriasis, infection, rash or any type of dermatitis at the treatment site – it may further aggravate the condition)
Q: What should I do before my treatment?
A: It is best to stop the use of retinoids at least a day before treatment.
Q: Can I combine this with other treatments?
A: Typically combining treatments will result in more aggressive treatments and longer downtimes but can yield impressive results. Some treatments such as a light microdermabrasion or light chemical peel can be performed right before microneedling as long as the face is then cleaned before starting the microneedling treatment. This cannot be combined with procedures that involve the use of any topical solutions immediately following the microneedling. LED Light therapy is the only treatment highly recommended post-needling.
Q: Do I have to use the microneedling solution/aftercare serums?
A: YES! Microneedling stimulates keratinocytes in the skin to release growth factors that induce collagenesis. As you get older, these keratinocytes become less and less effective at this so the treatment on its own becomes less and less effective. Because of this the microneedling solutions become more and more imperative as a client progresses in age. Using the aftercare serums as well will cause the skin to continue producing growth factors even while in between treatments. Think of diet and exercise – microneedling without serums is like exercising without dieting. Results will be good with microneedling only, great with serums.